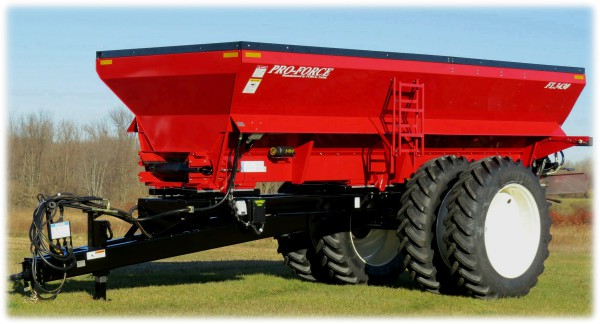 ~Pull Type Spreader~​​​​​​​​​​​​​​​​​​​

The Pull Type Spreader has the same
Innovative features as the chassis mounted
units, and is available with 480/80R46 radial row crop tires or IF900/65R32CFO radial floater tires.  Force Unlimited Manufactures the only Pull Type Spreader on the market, capable of spreading 1,2,3 or 4 products with independent variable rate control, in 1 pass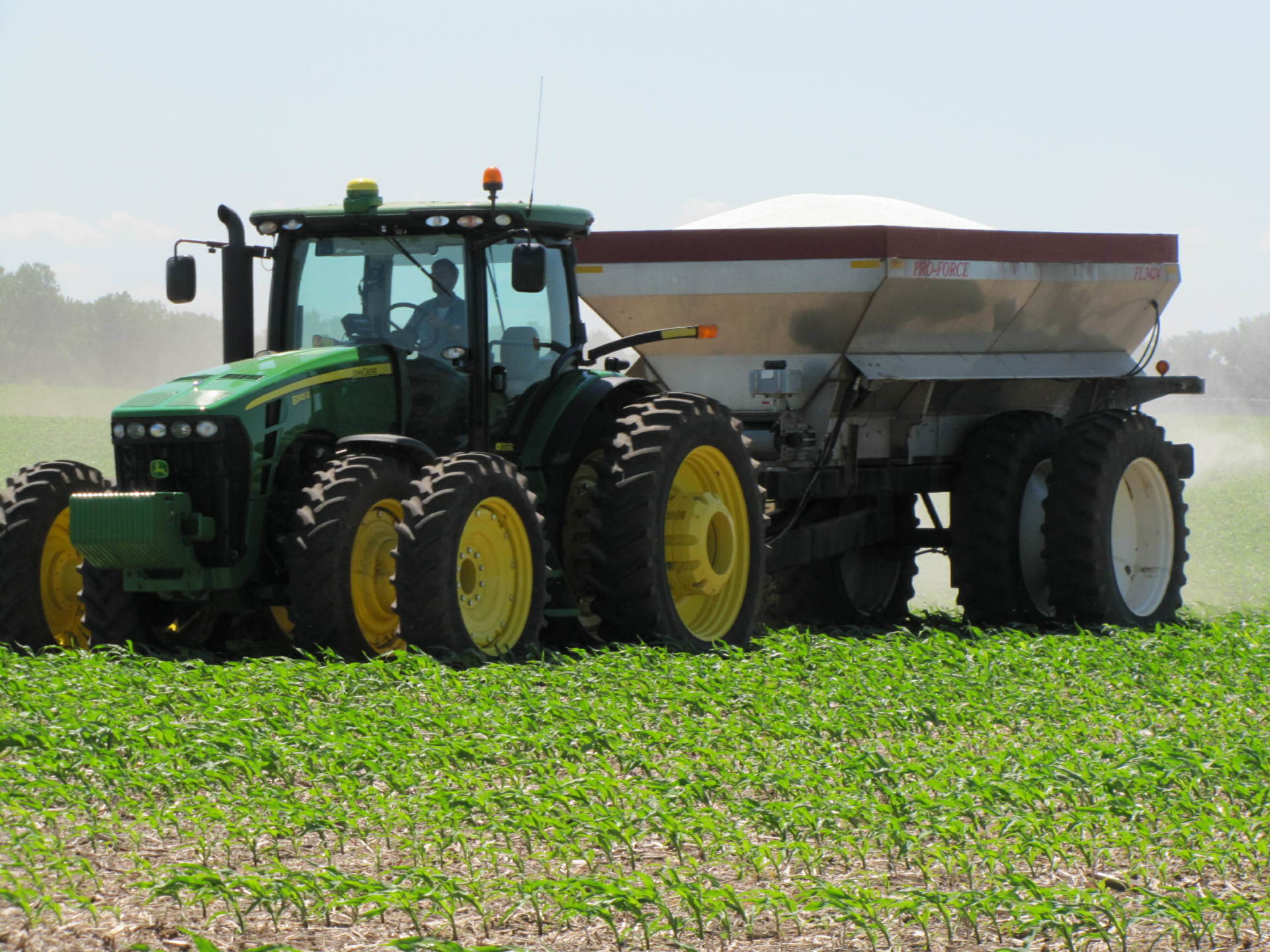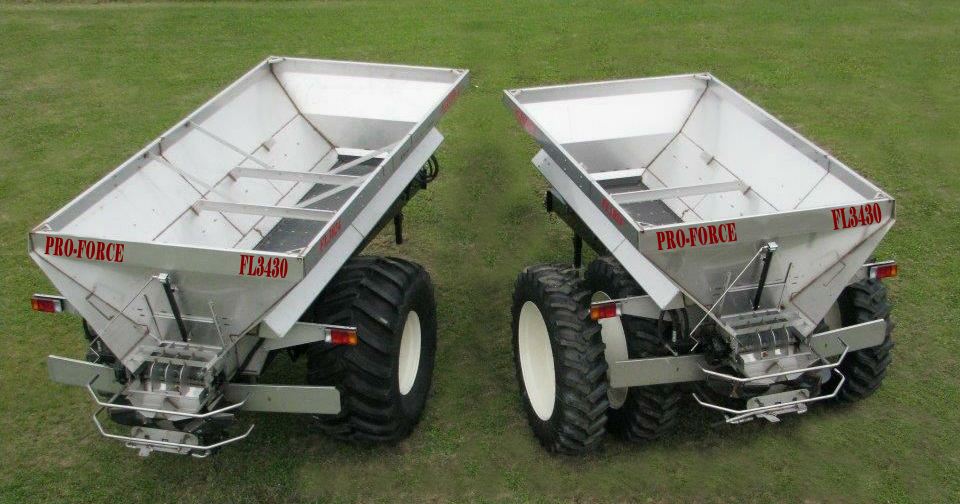 Pro-Force 304 Stainless Steel Pull-Type Spreader includes:
-102" Wide Flared Body, 34" Wide Conveyor Frame
​-(2) IF900/65R32CFO Tires on 100" Centers
-Two 30" Spinner Assemblies.  Extra Heavy Duty Spinner Motors and
          Hub Adapters with "Lifetime" Shaft Seal
-Vee Cleat Belt-Over-Chain, H.D. Pintle Chain (Belt isn't Oil Resistant)
-L

argest Heavy Duty Spur Gear Conveyor Drive in the Industry
-Single Axle Design and Hydraulic Brakes
-Bull-Pull Hitch, Cat 4 Implement Hitch, 1.5" and 2" Draw Pin
-Rear Lights, Amber Flashing, and Brake with Harnesses
Available Options for the FL 3430
​​-(4) 480/80R46 R-1 Ply Tires on 30" Centers - In Lieu of Standard
-(4) Firestone VF480/80R46 Tires on 30" Centers - In lieu of Standard
-Tracks, CAMSO 87" Center - Center 30" & 36" Wide Available
-Tracks, CAMSO 115" Center - Center 30" & 36" Wide Available
-Raven Rate Control, Module (ISO)
         -Rate Control Module Kit
         -ISO Extension Cable
         -Generic Product Harness
OPTIONS for Raven Rate Control Module (ISO)
         -Master Foot Switch
         -Foot Switch Cable
         -2nd Production Harness (2nd Compartment)
-John Deere Greenstar Dry Rate Controller Components from Force Unlimited.  The new Greenstar Rate Controller Dry will control both

servo and PWM valves.  Force Unlimited recommends PWM valves

for controlling multiple bin spreaders.  PVM valves offer better controllability.  Servo valves are fine and are recommended for

spinner speed control.  
-John Deere Components
         -Greenstart Dry Rate Controller with Foot Switch
         -English
         -Front Extension Harness (10 Meter)
         -Power Harness

-304 Stainless Steel Fenders for an overall Width of 132"
-Ladder
-Bin Level Sensor
​


​-Scale System with Monitor 
-Scale System ISO Compatible with 2630 No Monitor
-Scale System - Raven
-#2 Conveyor Chain, No Belt Over Chain - In Lieu of Standard
-Inverted Vee *
-Spread Pattern Test Kit
-Side Extensions Stainless 12" Tall for Spreader
-Side Extension for Duo-Force Divider
-Side Extension for Tri-Force
-Side Extension for Quad Force Divider
-Tarp, Manual 12" Stainless End Caps
-Tarp, Electric 12" Stainless End Caps
-Duo-Force - 2nd Compartment 304 Stainless Steel Insert
-Tri-Force - 3rd Compartment Stainless Steel Bin
-Quad Force - 4th Compartment Stainless Steel Divider
​

*The Inverted Vee is required when material is dropped

i
n large 
amounts at once into the spreader (when loading
with an end loader).
W
e can accommodate optional tire centers
of 20", 22", 36", & 38"  upon request.
~ Standard 30" Spinner Assembly​​  ~
​​​​​​​​​​​​​​
​

The adjustable spinner assembly is operator friendly and has predefined settings, that take the guess work out of spreading lime and fertilizer.  The adjustment arm, on the spinner assembly, eliminates the possibility of costly repairs due to jack or electric actuator freeze up.  The spinner assembly, along with the material divider, work together to spread material as far, as wide, and as consistently as any known spreader on the market.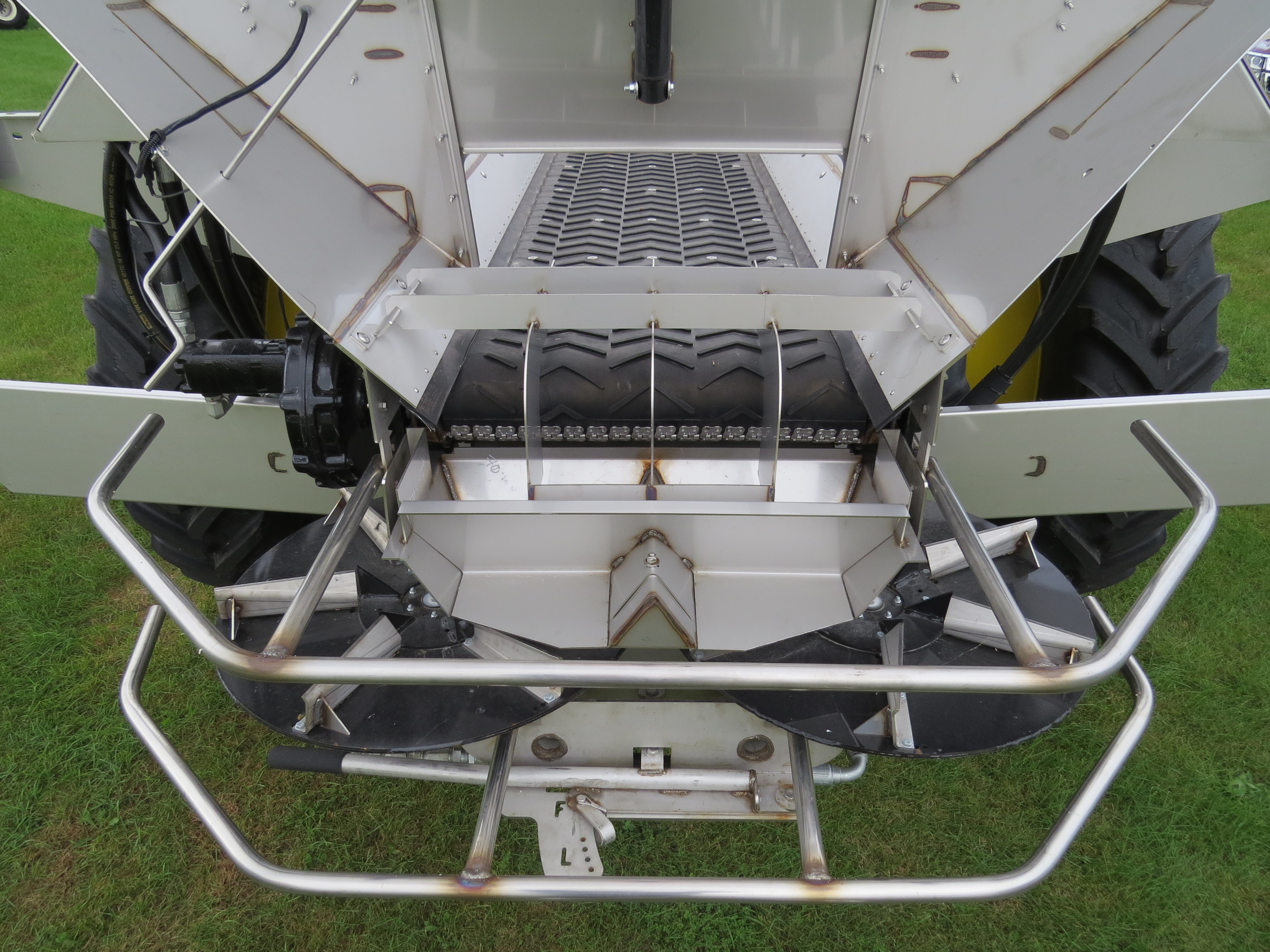 ​
The spinner drive features
a jackshaft assembly that minimizes the troublesome maintenance of the hub style spinner.  The seal is designed to last for the life
of the machine with proper maintenance.
The user friendly spinner  assembly by Force Unlimited, produces a spread pattern and spread width that is unsurpassed and does not vary when using multiple bins.