Pro-Force
Floater Chassis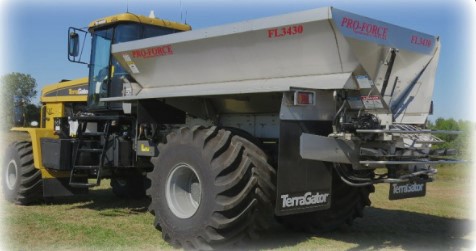 ​Split Application Can be an Important

Component of the 4R's of Nutrients

Our Pro-Force is The Best Spreader

When Implementing

​The 4Rs of Nutrients

​~Right Source

~Right Rate




~Right Place 

​~Right Time
Enhance nutrient efficiency

Promote optimum yields

Minimize the loss of nutrients


Unsurpassed spinner assembly in power, quality & width

Most aggressive 30" spinner on the market


Optional air or hydraulic swinging endgate

Spread lime, fertilizer & cover crops wider, faster and more consistently than competative spreaders.

The Pro-Force is designed
with the proper
combination 
of side slope & conveyor width,
for
low center of gravity & fast unloading.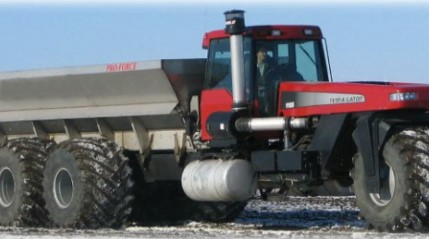 ​FL 3430 304 Stainless Steel Box​​​​​​

304 Stainless Steel Fenders for an overall width of 132"
Available in 13', 14', 16', 18', and 20'

-102" Wide Flared Body, 34" Wide Conveyor Frame

-Two 30" Spinner Assemblies.  Extra Heavy Duty Spinner Motors &
          Hub Adapters with "Lifetime" Shaft Seal
-Vee Cleat Belt-Over-Chain, H.D. Pintle Chain, (Belt isn't Oil Resistant)
-Largest Heavy Duty Spur Gear Conveyor Drive in the Industry
Pro-Force 304 Stainless Steel Spreader includes:
Available Options for the FL3430
-Side Extensions Stainless 12" Tall
-Side Extension for Duo-Force Divider
-Side Extension for Tri-Force
-Side Extension for Quad Force Divider
-Tarp, Manual 13'  12" Stainless End Caps
-Tarp, Electric 13'  12" Stainless End Caps
-Duo-Force 2nd Compartment Stainless Steel Insert

-Tri-Force 3rd Compartment Stainless Steel Bin
-Quad Force 4th Compartment Stainless Steel Divider

*The Inverted Vee is required when material is

dropped in large amounts at once into the spreader

(when loading with an end loader).

​

-Wide Mudflaps, Front & Rear
-Rear Lights, Amber Flashing, and Brake with Harnesses
-Inverted Vee *
-Inverted Vee (18' and longer)
-Oil Cooler
-Bin Level Sensor
-2nd Heavy Duty Gearbox Assembly
-Hyd. Unloader Valve (used with pumps that can't shut off)
-Hyd. Gear Pump 
-Hyd. Tank Shutoff Valve
-Flow Control Valve Assy.
-#2 Conveyor Chain, No Belt-Over-Chain - ILOS
-SS Framed Window in the Front Endgate 

-Spread Pattern Test Kit
-Scale System with Monitor 
-Scale System ISO Compatible with 2630 No Monitor
-Scale System - Raven 
​